Job vacancies / Heiligengrabe / Duties / Sachbearbeiter Vertrieb Innendienst Schwerpunkt Export
ID: F4CD8
Sachbearbeiter Vertrieb Innendienst Schwerpunkt Export
(m/f/d)
Positionsbeschreibung:

Der Mitarbeiter (m/w/d) im Vertriebsinnendienst Export ist verantwortlich für die Abwicklung der Kundenaufträge im englischsprachigen Raum vom Bestelleingang, über die Planung der Produktion bis hin zum Versand der fertigen Ware vom Standort Heiligengrabe aus. Hier ist zu gewährleisten, dass die Aufträge unter Berücksichtigung der Kundenanforderungen mit den gesetzlich vorgeschriebenen Dokumenten termingerecht bearbeitet werden und eine stetige Kommunikation mit dem Kunden gewährleistet ist.
Ihre Aufgaben bei SWISS KRONO:

Sie erfassen und bearbeiten vorwiegend die Bestellungen unserer Kunden, stimmen Produktions- und Liefertermine ab und steuern die Versandabwicklung,
Sie überwachen das Zahlungsverhalten der Kunden und fassen bei Mahnungen nach,
Sie stehen im ständigen Kontakt mit dem Außendienstmitarbeiter, den Servicetechnikern, der Buchhaltung und
anderen Abteilungen,
Sie bearbeiten Reklamationen und erstellen gleichlautende Gutschriften,
Sie stehen in schriftlichem und telefonischem Kontakt mit den Kunden in vorwiegend englischer Sprache,
Sie verantworten die Stammdatenpflege Ihrer Kunden im SAP,
Sie arbeiten eng mit dem Vertriebsteam des Innen- und Außendienstes zusammen.
Diese Qualifikationen bringen Sie mit:

Sie verfügen über eine erfolgreich abgeschlossene kaufmännische Ausbildung,
Sie besitzen vorteilhafterweise Vertriebserfahrung,
Sie sind sicher im Umgang mit den gängigen MS-Office-Anwendungen und bringen idealerweise anwenderbezogene Kenntnisse in SAP mit,
Sie verfügen über fundierte Englischkenntnisse in Wort und Schrift,
Sie sind teamorientiert, organisations- und kommunikationsstark,
Sie zeigen Engagement und Zuverlässigkeit,
Sie haben ein sicheres und freundliches Auftreten,
Sie sind belastbar und bereit, sich in neue Aufgabenfelder einzuarbeiten,
Sie arbeiten kundenorientiert, verantwortungsbewusst und selbstständig.
Unser Angebot an Sie:

Sie erwarten abwechslungsreiche und vielseitige Aufgaben in einem international agierenden Unternehmen. Sie arbeiten in einem zukunftsorientierten Arbeitsumfeld und an einem modernen Arbeitsplatz. Wir bieten Ihnen hervorragende Entwicklungsperspektiven und Weiterbildungsmöglichkeiten. Die Vergütung richtet sich nach Ihrer Qualifikation und entspricht den Leistungsanforderungen.
Interesse geweckt?

Dann senden Sie uns bitte Ihre vollständigen Bewerbungsunterlagen unter der Angabe Ihrer Gehaltsvorstellung. Bewerbungen können sowohl online als auch postalisch durchgeführt werden.

Kontakt:

SWISS KRONO TEX GmbH & Co. KG
Herrn Christian Baumann
Wittstocker Chaussee 1
D-16909 Heiligengrabe

Heiligengrabe, Deutschland
Start: Starting immediately
SWISS KRONO TEX GmbH & Co. KG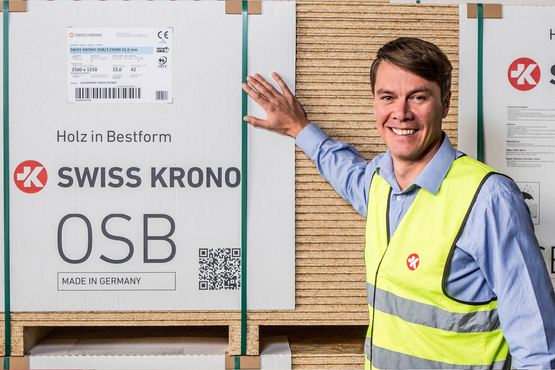 Christian Poloczek – Key Account Manager OSB Export
As a key account manager for OSB exports, I look after some of our largest customers in Germany and other countries. I represent the company and our products, which I wholeheartedly believe in and identify with. I travel regularly to Austria, Russia, the Middle East, Australia and Japan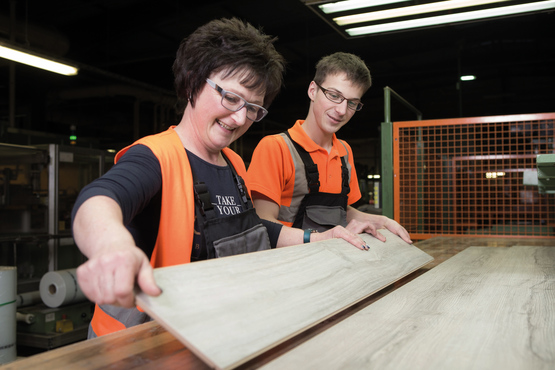 Heiligengrabe
Our company in Heiligengrabe – SWISS KRONO TEX GmbH & Co. KG – belong to the international SWISS KRONO GROUP. We constantly set new standards in the production of high-quality laminate flooring, multifunctional engineered wood boards and state-of-the-art, eco-friendly wood-fibre insulation.
More information
Your application as Sachbearbeiter Vertrieb Innendienst Schwerpunkt Export
Apply now!