Electronics Technician for Plant Equipment

A fully trained electronics technician for plant equipment installs and services electrical systems, in addition to programming and configuring systems. He or she also lays cables, installs wiring and switchgear and troubleshoots and fixes problems and malfunctions in close cooperation with plant operators.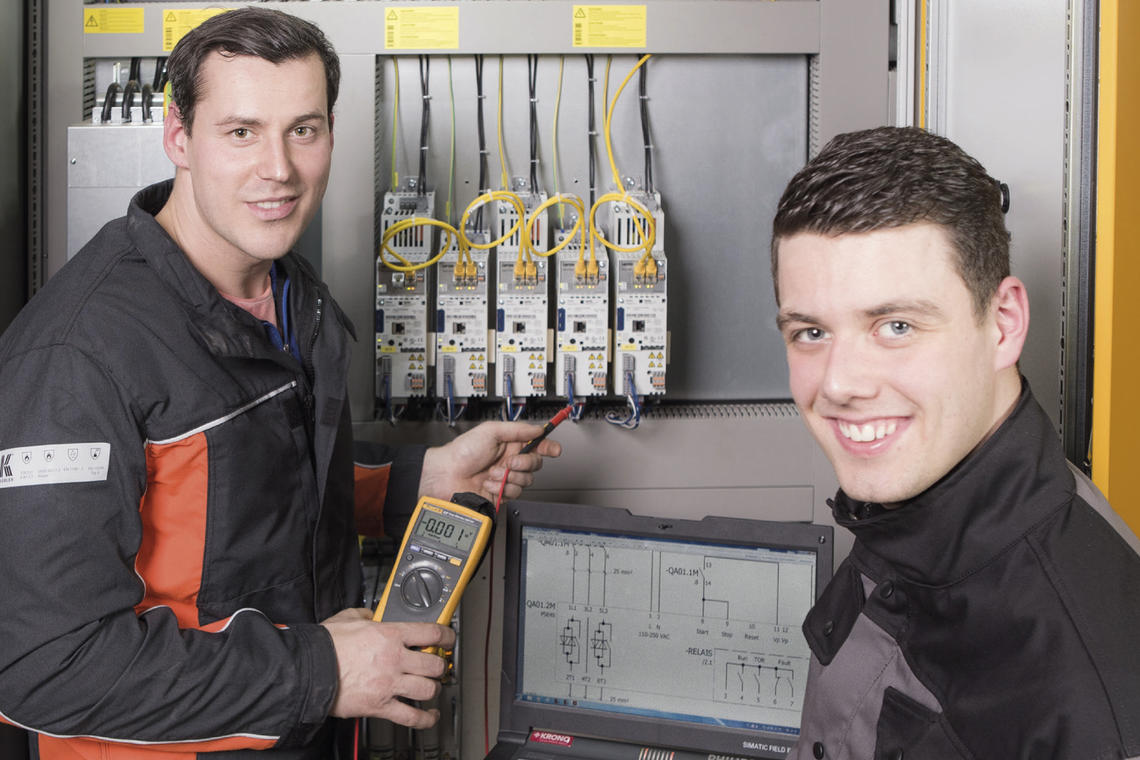 Content of the Training:

As a trainee electronics technician, during the first year you learn to assess the safety of electric equipment. This includes measuring and analysing electrical functions and systems. Attention is also devoted to environmental protection, safety at work and avoiding occupational health hazards.

In the second year, the focus is on maintaining and repairing plants and systems. You learn how to assemble and connect electrical devices such as sensors and motors. The curriculum also includes planning and organising activities and evaluating results. At the end, you should be ready to take the mid-course exam.

Then you really get down to business. In the third year of training you begin installing and commissioning entire electrical systems. This also includes configuring and programming controllers and control systems. Planning, organising and evaluating results continue to be important topics.

In the fourth year, you install and configure IT systems, perform technical contract analyses and develop solutions for defined tasks. After that you have a command of everything that an electronics technician has to know and be able to do. The last hurdle is the final exam, for which we thoroughly prepare you. Then the only missing ingredient is experience – which you inevitably gain over the course of time.

Spend Five Minutes as a Trainee Electronics Specialist for Plant Equipment (in a 360° Video)

Does this profession seem to reflect your own interests, but you're not sure how it actually works in practice? If so, you're invited to come watch a trainee, Florian, fix a problem together with his trainer, Johannes Hentschel. They personally show you the kinds of things they do and let you directly experience the company and what it's like to be part of our team. Take your time browsing the workshop and check out the impressive view from the top of the tower (don't worry, you can't fall out! ;-).
The German Federal Employment Agency commends SWISS KRONO for its exemplary vocational training work and awards it the official 2016/2017 Certificate for Promoting the Development of Young People.
SWISS KRONO – Excellent Training
The Neuruppin office of the German Federal Employment Agency (Bundesagentur für Arbeit) has honoured SWISS KRONO Germany for its outstanding work to train and promote young people.