Job vacancies / Heiligengrabe / Duties / Medientechnologe Digitaldruck / Drucker
ID: AA46C
Medientechnologe Digitaldruck / Drucker
(m/f/d)
Positionsbeschreibung:
Der Drucker (m/w/d) bei SWISS KRONO bedient die Digital- und Analogdruckmaschinen und bereitet die dazugehörigen Prozesse vor. Dabei prüft und kontrolliert er die Druckergebnisse und sorgt für einen reibungslosen Ablauf des kompletten Printvorgangs. Weiterhin befasst er sich mit der Inbetriebnahme, Überwachung und Reparatur der elektronisch gesteuerten Druckmaschinen.
Ihre Aufgaben bei SWISS KRONO:
Sie richten selbstständig die Druckmaschinen ein,
Sie kümmern sich um die Durchführung und Überwachung der Produktion,
Sie setzen die Druckfarbe nach Rezept an,
Sie sind zuständig für die Qualitätsprüfung und -sicherstellung,
Sie mustern die fertigen Drucke nach Dekorvorlage aus.
Diese Qualifikationen bringen Sie mit:
Sie verfügen idealerweise über eine abgeschlossene Berufsausbildung als Drucker oder haben Erfahrung als Maschi- nenführer in der Druckbranche,
Sie haben keine Farbfehlsichtigkeiten, wie zum Beispiel Rot-Grün-Sehschwäche,
Sie verfügen über technisches Geschick und Verständnis,
Sie besitzen Freude und Interesse an modernen Technologien,
Sie arbeiten sorgfältig und strukturiert,
Sie sind teamfähig, zuverlässig und bereit, eigenverantwortlich zu arbeiten,
Sie zeigen Bereitschaft zum Einsatz im Schichtsystem.
Unser Angebot an Sie:
Sie erwarten abwechslungsreiche und vielseitige Aufgaben in einem international agierenden Unternehmen. Sie arbeiten in einem zukunftsorientierten Arbeitsumfeld und an einem modernen Arbeitsplatz. Wir bieten Ihnen hervorragende Entwicklungsperspektiven und Weiterbildungsmöglichkeiten. Die Vergütung richtet sich nach Ihrer Qualifikation und entspricht den Leistungsanforderungen. Die Tätigkeit ist unbefristet.
Interesse geweckt?
Dann senden Sie uns bitte Ihre vollständigen Bewerbungsunterlagen unter der Angabe Ihrer Gehaltsvorstellung. Bewerbungen können sowohl online als auch postalisch durchgeführt werden.
Kontakt:
SWISS KRONO TEX GmbH & Co. KG
Herrn Christian Baumann
Wittstocker Chaussee 1
D-16909 Heiligengrabe
Heiligengrabe, Deutschland
Start: Starting immediately
SWISS KRONO TEX GmbH & Co. KG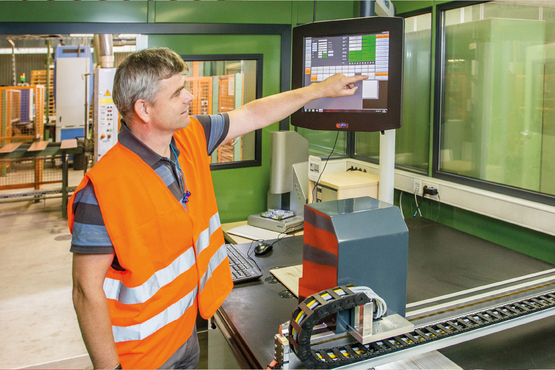 Thomas Böhm – Quality Controller for Flooring
My job as a quality controller is to carry out random inspections of laminate flooring and our high-speed presses in accordance with EN 13329. All of the products have to live up to our high standards of quality, and the systems have to produce in line with the applicable DIN standards. We use advanced optical and electronic devices to monitor them.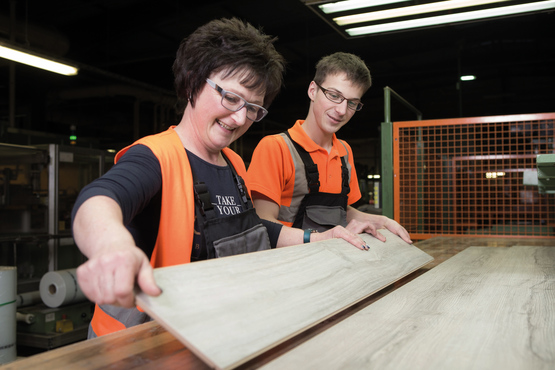 Heiligengrabe
Our company in Heiligengrabe – SWISS KRONO TEX GmbH & Co. KG – belong to the international SWISS KRONO GROUP. We constantly set new standards in the production of high-quality laminate flooring, multifunctional engineered wood boards and state-of-the-art, eco-friendly wood-fibre insulation.
More information
Your application as Medientechnologe Digitaldruck / Drucker
Apply now!