Job vacancies / Heiligengrabe / Duties / Mitarbeiter Qualitätssicherung im Schichtdienst
ID: E794D
Mitarbeiter Qualitätssicherung im Schichtdienst
(m/f/d)

Positionsbeschreibung:

Die Position des Mitarbeiters in der Qualitätssicherung zeichnet sich durch selbstständiges und eigenverantwortliches Arbeiten im Labor, sowie in verschiedenen Produktionsbereichen aus. Dabei werden Qualitätssicherungsmaßnahmen, welche größtenteils normiert sind, produktionsbegleitend durchgeführt, um die Produkteigenschaften permanent zu überwachen.

Ihre Aufgaben bei SWISS KRONO:

Sie führen selbstständig die festgelegten Produktprüfungen im 4-Schichtbetrieb durch und dokumentieren diese,
Sie analysieren Fehler und leiten Aktionen sowie Maßnahmen zur Verbesserung der Produktqualität ein,
Sie erstellen Qualitätsberichte und Prüfdokumente,
Sie arbeiten sowohl mit der Produktion als auch mit anderen Fachbereichen zusammen.
Diese Qualifikationen bringen Sie mit:

Sie verfügen idealerweise über eine abgeschlossene Ausbildung im Bereich der Qualitätssicherung,
Sie besitzen im besten Fall bereits praktische Erfahrungen in diesem Tätigkeitsbereich oder sind mit der Laborarbeit vertraut,
Sie sind teamfähig, zuverlässig und bereit, eigenverantwortlich zu arbeiten,
Sie besitzen eine schnelle Auffassungsgabe, sind sorgfältig und strukturiert,
Sie sind sicher im Umgang mit den gängigen EDV-Systemen (hauptsächlich Excel).
Unser Angebot an Sie:

Sie erwarten abwechslungsreiche und vielseitige Aufgaben in einem international agierenden Unternehmen. Sie arbeiten in einem zukunftsorientierten Arbeitsumfeld und an einem modernen Arbeitsplatz. Wir bieten Ihnen hervorragende Entwicklungsperspektiven und Weiterbildungsmöglichkeiten. Die Vergütung richtet sich nach Ihrer Qualifikation und entspricht den Leistungsanforderungen. Das Arbeitsverhältnis ist unbefristet.
Interesse geweckt?

Dann senden Sie uns bitte Ihre vollständigen Bewerbungsunterlagen unter der Angabe Ihrer Gehaltsvorstellung. Bewerbungen können sowohl online als auch postalisch durchgeführt werden.
Kontakt:

SWISS KRONO TEX GmbH & Co. KG
Herrn Christian Baumann
Wittstocker Chaussee 1
D-16909 Heiligengrabe

christian.baumann@swisskrono.com
jobs.swisskrono.de

Heiligengrabe, Deutschland
Start: Starting immediately
SWISS KRONO TEX GmbH & Co. KG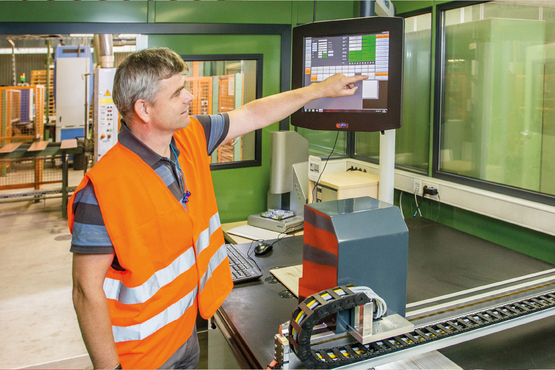 Thomas Böhm – Quality Controller for Flooring
My job as a quality controller is to carry out random inspections of laminate flooring and our high-speed presses in accordance with EN 13329. All of the products have to live up to our high standards of quality, and the systems have to produce in line with the applicable DIN standards. We use advanced optical and electronic devices to monitor them.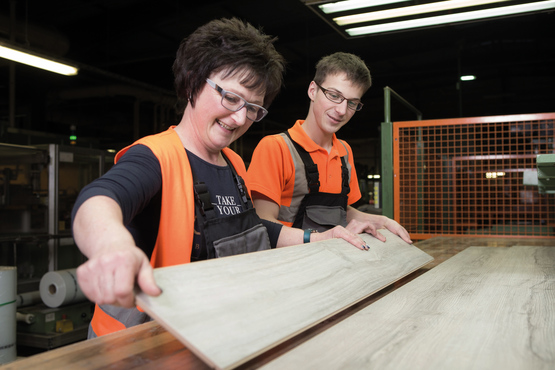 Heiligengrabe
Our company in Heiligengrabe – SWISS KRONO TEX GmbH & Co. KG – belong to the international SWISS KRONO GROUP. We constantly set new standards in the production of high-quality laminate flooring, multifunctional engineered wood boards and state-of-the-art, eco-friendly wood-fibre insulation.
More information
Your application as Mitarbeiter Qualitätssicherung im Schichtdienst
Apply now!