Job vacancies / Heiligengrabe / Duties / Personalsachbearbeiter in Teilzeit
ID: FD38F
Personalsachbearbeiter in Teilzeit
(m/f/d)
Positionsbeschreibung:
Der Personalsachbearbeiter (m/w/d) bei SWISS KRONO ist zuständig für die Durchführung von sämtlichen administrativen Tätigkeiten im Rahmen der Personalbetreuung. Er unterstützt das Personalwesen bei sämtlichen Prozessen, wie Vertragserstellung, Zeugniserstellung, Ablage und Stammdatenpflege. Darüber hinaus kümmert sich der Personalsachbearbeiter um die Lohn- und Gehaltsabrechnungen unter der Beachtung von steuer- und sozialversicherungsrechtlichen Rahmenbedingungen.
Ihre Aufgaben bei SWISS KRONO:
Sie sind Ansprechpartner für Mitarbeiter, Führungskräfte und Sozialversicherungsträger in steuer- sowie
sozialversicherungsrechtlichen Belangen,
Sie erledigen die interne und externe Korrespondenz sowie die Kommunikation mit Finanzämtern, Krankenkassen,
Sozialversicherungsträgern und anderen Behörden,
Sie betreuen das Zeiterfassungssystem,
Sie sind verantwortlich für das Führen und Pflegen der Personalakten.
Diese Qualifikationen bringen Sie mit:
Sie verfügen über eine abgeschlossene kaufmännische Ausbildung,
Sie besitzen mehrjährige Berufserfahrung im Bereich der Gehaltsabrechnung und Personalverwaltung inklusive
betrieblicher Altersvorsorge,
Sie haben umfassende Kenntnisse im Lohnsteuer-, Sozialversicherungs- und Arbeitsrecht,
Sie sind sicher im Umgang mit den Standard Office-Anwendungen und haben Erfahrung mit einer Abrechnungssoftware,
Sie haben ein hohes Maß an Einsatzbereitschaft, sind verschwiegen und verantwortungsbewusst,
Sie sind teamfähig, zuverlässig und bereit, eigenverantwortlich zu arbeiten,
Sie besitzen ein freundliches Auftreten,
Sie sind bereit sich weiterzubilden.
Unser Angebot an Sie:
Sie erwarten abwechslungsreiche und vielseitige Aufgaben in einem international agierenden Unternehmen. Sie arbeiten in einem zukunftsorientierten Arbeitsumfeld und an einem modernen Arbeitsplatz. Wir bieten Ihnen hervorragende Entwicklungsperspektiven und Weiterbildungsmöglichkeiten. Die Vergütung richtet sich nach Ihrer Qualifikation und entspricht den Leistungsanforderungen. Das Arbeitsverhältnis ist unbefristet.
Interesse geweckt?
Dann senden Sie uns bitte Ihre vollständigen Bewerbungsunterlagen unter der Angabe Ihrer Gehaltsvorstellung sowie Ihrer gewünschten Stundenanzahl. Bewerbungen können sowohl online als auch postalisch durchgeführt werden.
Kontakt:

SWISS KRONO TEX GmbH & Co. KG
Herrn Christian Baumann
Wittstocker Chaussee 1
16909 Heiligengrabe

christian.baumann@swisskrono.com
jobs.swisskrono.de


Heiligengrabe, Deutschland
Start: Starting immediately
Personnel / Human Resources
SWISS KRONO TEX GmbH & Co. KG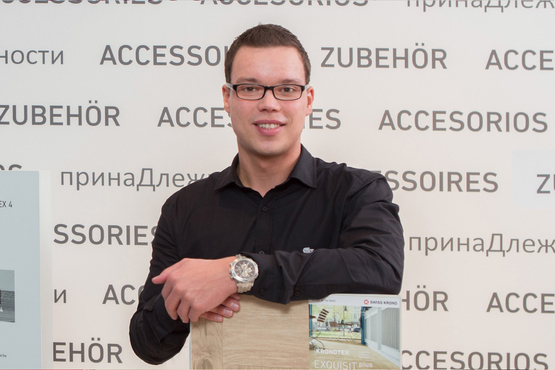 Florian Lück – Marketing Administrator
Today I'm really glad that I landed in marketing, as it's an incredibly multifaceted job. Every day is different. Sometimes I'm sent to trade fairs or assigned to help build samples or displays, and I've even been put in charge of organising everything for the SWISS KRONO team to take part in the the annual B2Run company footrace.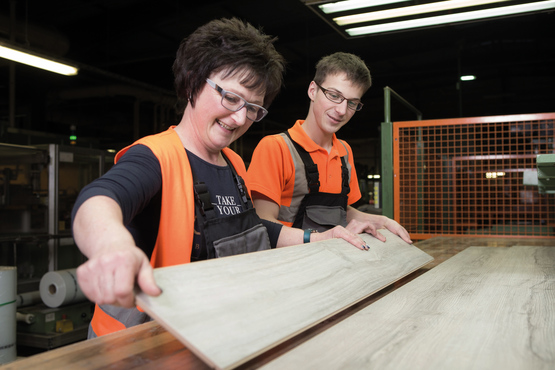 Heiligengrabe
Our company in Heiligengrabe – SWISS KRONO TEX GmbH & Co. KG – belong to the international SWISS KRONO GROUP. We constantly set new standards in the production of high-quality laminate flooring, multifunctional engineered wood boards and state-of-the-art, eco-friendly wood-fibre insulation.
More information
Your application as Personalsachbearbeiter in Teilzeit
Apply now!